In the past 2-3 months, I've been writing way more code and relatively more blog posts than I had before starting this blog. This has been mainly due to my goal of being consistent about things that interest me.
I'm writing this post because I haven't posted in about 10 days and I was getting anxious to write something. This post is kind of like an intermittent update because I have been busy lately but I think most of those things are not very interesting to post about.
Cycling: I've started riding my bike again, after about 11 months of inactivity! My bike was hanging on its hook for so long that it had collected dust on all the components! I had forgotten where my pump was and took me awhile to find it. Below are my stats from Strava for cycling: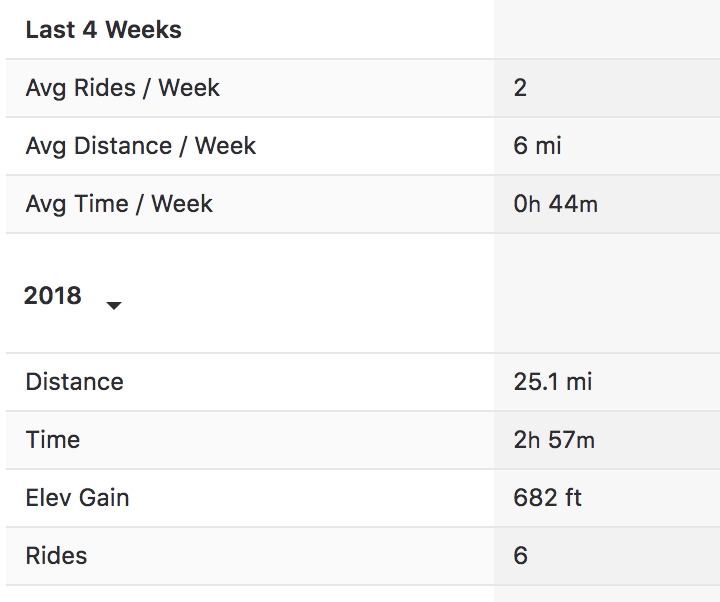 I don't want to be unrealistic but I do want to ride a couple of hundred miles if I stay consistent.
Books: after finishing The Three-Body Problem, I wanted to read/listen to something non-fiction and I started listening to A Fine Mess by T.R. Reid. It's a book on taxes and I did enjoy it. I have a draft post about it but I'll talk more about it in that. I'm also reading a fiction book called Mattimeo by Brian Jacques, it's a children's fantasy novel about anthropomorphic mice, second in the Redwall series. After my experience with Watership Down by Richard Adams, I've been feeling many different things, like the whole story is so magical and profound yet so dark and simple that it kind of hurts to think about how real it made me feel. 
Code: I've been trying to stay consistent about learning Node.js and using it to build something. Also, I'm practicing things like python and javascript when I have some down time, this has been mostly for fun. I'm itching to build something big but I don't want to misperceive my little bits of new information as newfound confidence.
The Joy of Tidying (and finances): I didn't really know what to call this part but one thing that's been part of my everyday thinking has been the notion of "less is more" and also using a recently learned problem solving principle called Occam's razor to clearly focus on things. I remember when I read The Life-Changing Magic of Tidying Up by Marie Kondo last year, it really opened up a new way of looking at my possessions. It started with just the things I had and how many of them I wasn't using or wanting yet they all were in my house, taking my room and requiring my time. 
Once I simplified my clothing, books, and other possessions, I started to think of abstract noises and complexities like finances, digital presences, online shopping, and even apps on my phone. This has been a topic of research for me as most people in my generation are dealing with this in various ways, I want to find an approach that's not Draconian and still lets me enjoy my time with these things and without them. More on this later!