For me, 2022 was a pretty bad year.
There's a lot of things going on in my head that I have not properly digested and I think I've used video games and social media to soothe the pain and ennui.
I think to review the year using a completely opaque heuristic, I would opt to use the music I heard in 2022. It sort of reflects my mental state throughout the year.
According to Spotify and Last.fm the top songs were pretty similar, I will post the last.fm top songs below as they're counted based on how much I listened to the songs.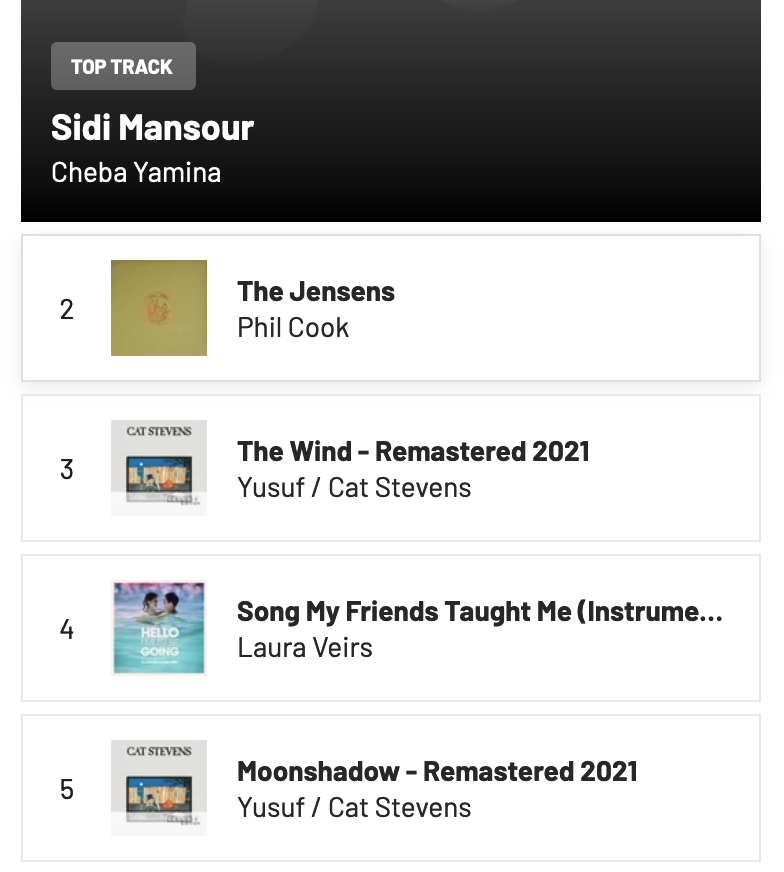 When I traveled to New York City in April, 2022, I had a pretty uniquely New York experience when I went out to lunch. I walked around and stopped by an Egyptian restaurant that made wraps and the song playing there was Sidi Mansour by Cheba Yamina, since then the song has been a pretty popular song for me. The rest of the top songs and the rest don't really follow the upbeat and dance vibe.
"The Jensens" by Phil Cook describes my year as 2022. Spotify considered this my top song and rightly so, it's a quiet song sounding so far away, it seems like you're not here when you listen to it. And Laura Veirs' instrumentals have been on my top songs since I first started listening to them, overall the last few years have had her songs within my top 10 easily because they capture the feeling I often experience where it's me by myself thinking about something but can't put those thoughts to words.
The song that didn't get as much playback from me but I consider to be the top song based on likeness is Rabbi Shergill's "Bulla Ki Jana".
It has to be the most reassuring yet somehow a bit depressing and alienating at the same time. Almost 20 years after I first heard it, it still helps me pass a few minutes.
I didn't want to turn this post into a music focused post but it has turned into one and now I'm thinking about other things I wanted to talk about. Like what my plans are for side projects, specifically Bookends will be on my radar early on. I want to set it up within the next few weeks, depending on how busy / stressed I am by work. Other projects will follow but this one I'm excited about because I have spent enough time on BoardSearch last year to figure out some technical details I have struggled with in the past when working on Bookends and also I think this time around, the UI and UX will be different for Bookends.
You never know what the year holds for you, last year at this time I was packing up to move to Portland. A year later, I'm sitting here and listening to Cornershop (a new discovery in 2022) while the heater is blasting as it's so cold here!
If you're still reading, I hope you have a great 2023, be kind and remember the good things in life are around you, just seek them out and be there for them. After all, what is life if not a long trick played upon death.