Go be a Ranger, little Archie
Since last Thursday, we had been fostering a little puppy. We gave him the name Archie. He is a blue healer and Bernese mountain dog mix, so he's going to be a big dog. Below is a picture of him.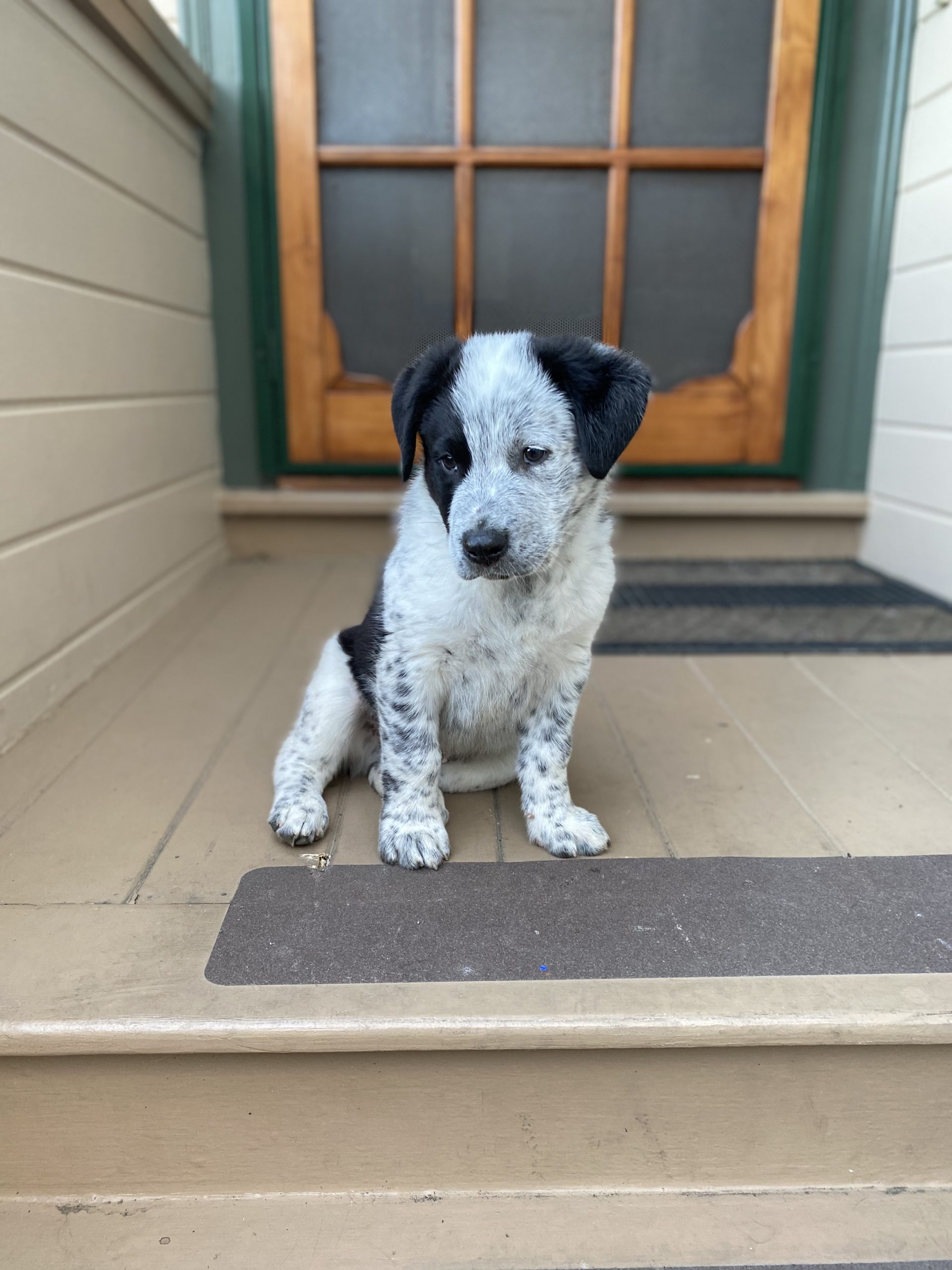 We were fostering him because animal shelters are closing due to the coronavirus lockdowns everywhere. Kristen went and picked him up from Vacaville.
He was a little guy among a bunch of dogs there, the person Kristen got him from is a volunteer at a nearby shelter and she brought him home. He was sleeping outside and Kristen just couldn't take it so she brought him home.
Archie was a name Kristen picked because it sounded cute for a big dog. We had started crate training him and he was whining a lot at night but getting better night by night. Our house is a mess because he bites and pulls on everything.
A few days ago, I brought up to Kristen that we can't have a 3rd pet right now because of how much attention he needs while we're also paying attention to our other two pets, Samson and Heisenberg. Along this, there's also the fact that he was going to be a foster which made me not want to get too attached to him.
Well, we had gotten some replies on the craigslist post but most were either too vague to be taken seriously or people were just not serious about picking him up. After having him for a week, it's hard to say bye to him and just let him go to any stranger's home so Kristen was vetting each reply and making sure the people were actually serious about him.
Last night, she got a reply from a couple who live in Napa and they have a farm up there. They were interested in him because they had just put down their down dog who was very ill with cancer and pretty far along in his years.
They came by today and Archie met them. They asked us what made us name him "Archie" and we didn't have any reason and Kristen said "His name was Ranger when we got him" and the couple choked up and started to laugh after a quiet moment and said "that was our dog's name!" So that was it, they couldn't stop petting him and holding him and he couldn't get enough of them. He's now on his way to his new home on a farm, where he'll be another Ranger and I hope he lives his best life out there. And I do hope to see him when he's all grown up, one day.
Having a foster is really hard, I don't think I can ever do it again. A puppy is so loving and so attention hungry, there's not much you can do to avoid loving them. I'm going to miss this little guy a lot!
Some more photos of him: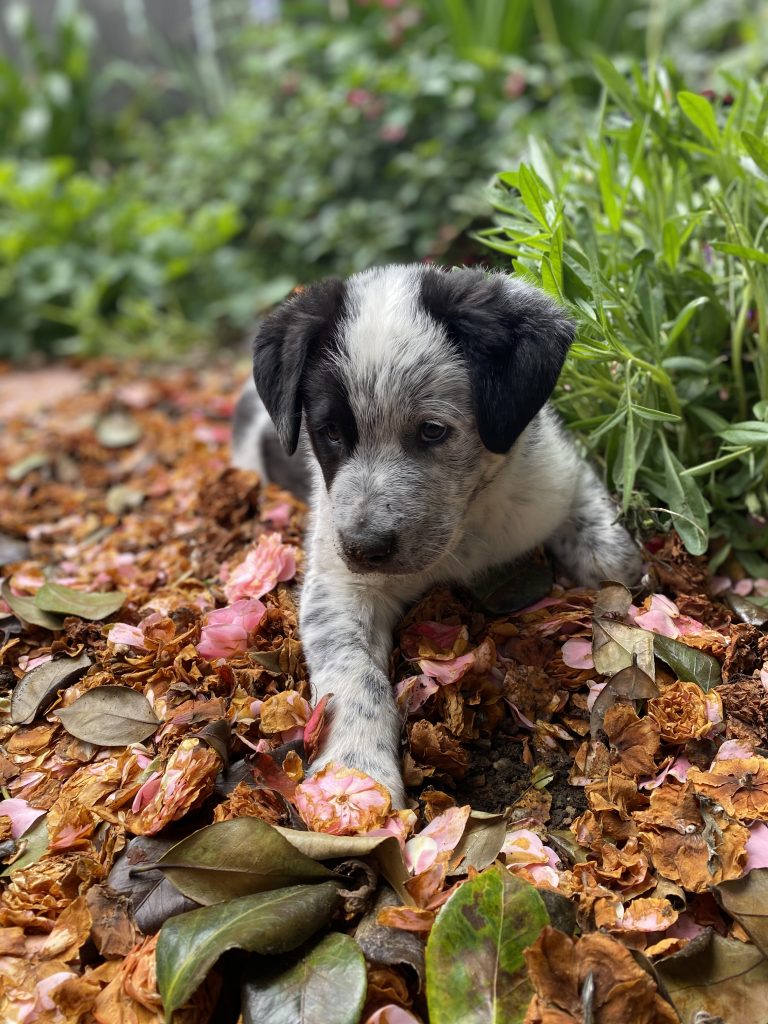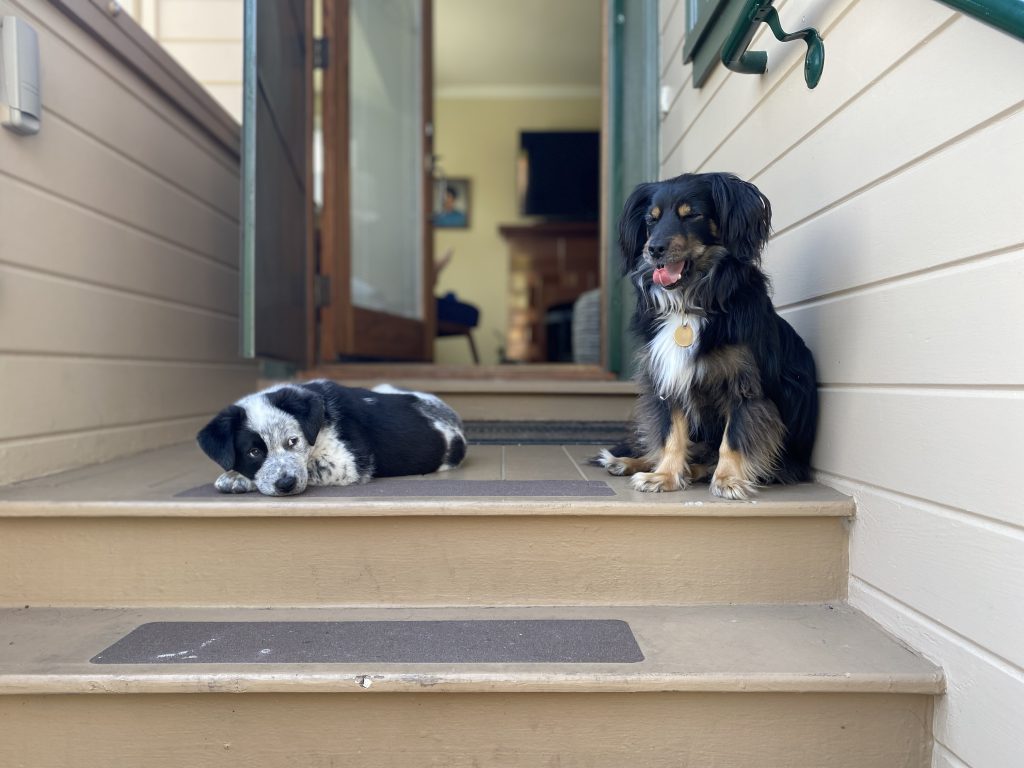 Update: We got an update from the couple who took him earlier today. They said he slept on the ride there. He met their other dog named Boomerang and tried playing with her. He met their chickens and walked around the farm. He loves running through the tall grass. We don't have any tall grass but we had some plants that he ran through. I'm so happy he went to a farm where he'll grow up to have tons of room. I miss him a lot. He's so cute and so energetic. I will miss his subtly upset groan he would do if you picked him up while he was barking. They have a farm where there's a huge area for the dogs to hang out when they're not around and he has his own 6×6 crate to sleep in.
I am looking around realizing we try our best to give Samson and Heisenberg a good life and I believe here he would've been happy too but maybe not as wild as he will be there.
I believe it was meant to be for Kristen to pick him up last week and bring him here so he can find his way to the farm. He won't be alone, sleeping outside, with nobody to play with. He will be doing a lot of helping and running around, not bored in the dirt in someone's backyard. Thank you Kristen for showing me this.
He is now called Ranger.
Some songs that remind me of him, in some way I guess: